Joyfal -
Delivering Joy, From Fal
Self-Initiated, 2020
Joyfal is an initiative with the simple aim to spread joy around Falmouth (and beyond!) while promoting handcrafted activities. 
Why? Making others smile is proven to boost your own happiness and studies show that happier people have a greater tendency to give, meaning even the smallest action can spark a chain of positivity. Kindness is contagious, spreading from one person to the next, influencing the behaviour of people who never saw the original act. We believe the little things can make the biggest difference – it only takes a moment to brighten someone's day! 
In a world where we spend so much of our time online, it's the tangible things that have the greatest impact. That's why we believe that handmade crafts and personalised messages are the perfect way to make people smile.
Find out more about our upcoming events on our Instagra
m @joyfalness
Branding and Identity, Copywriting, Typography, Editorial Design, Photography, Public Speaking, Social Media, Animation, Paper and Craft Skills
We use a friendly tone to spread our message. Our tone is informal, but we always (try to!) use correct spelling, punctuation and grammar! We like to keep it short and sweet, although we might get a little carried away in a caption…
We aim to reach as many people as possible – whether in person or through the people we've connected with. When it comes to workshops we can cater for specific audiences of all ages. 
Event 01 -
Joyfal Deliveries

​​​​​​​
Joyfal began as a group university project, a postcard delivery service held at Woodlane Campus, Falmouth, encouraging students and staff to send handwritten messages and drawings around the UK. The project involved designing a visual identity, illustrating postcards, and creating both printed and digital promotional material, including our Instagram page
(@joyfalness). T
he event was a big success – the postcards made so many people smile and spread our positive message as far as Edinburgh!
Postcards printed black & white to encourage individuals to colour the designs in. (from top to bottom) Claudia, Emma and Mollie
(above) Flyers positioned around university campus
(above) Instagram story promotion screencaptures
Following the event, our online presence attracted interest from local businesses and organisations who loved our message and were keen to get involved...
We then designed what is now the first of a series of Joyfal publications, introducing our values and documenting the event. The publication showcases how people personalised their postcards, accompanied by a selection of photos taken on the day. The newspaper-style publication can be passed around with ease, while the front cover can be cut out as a poster – a reminder of all things 'Joyfal'.
Event 02 -
Toast Drawing Corner
Draw something that makes you smile
Every other week, Toast (a bar in Falmouth) hosts a Pop-up Arts Fair for students to sell and exhibit their work. On 25/11/19, we took over the Drawing Corner and asked people to illustrate something that made them smile, around the theme of joy...
The event was really successful and Frank (the organiser) has said we are welcome to do it again!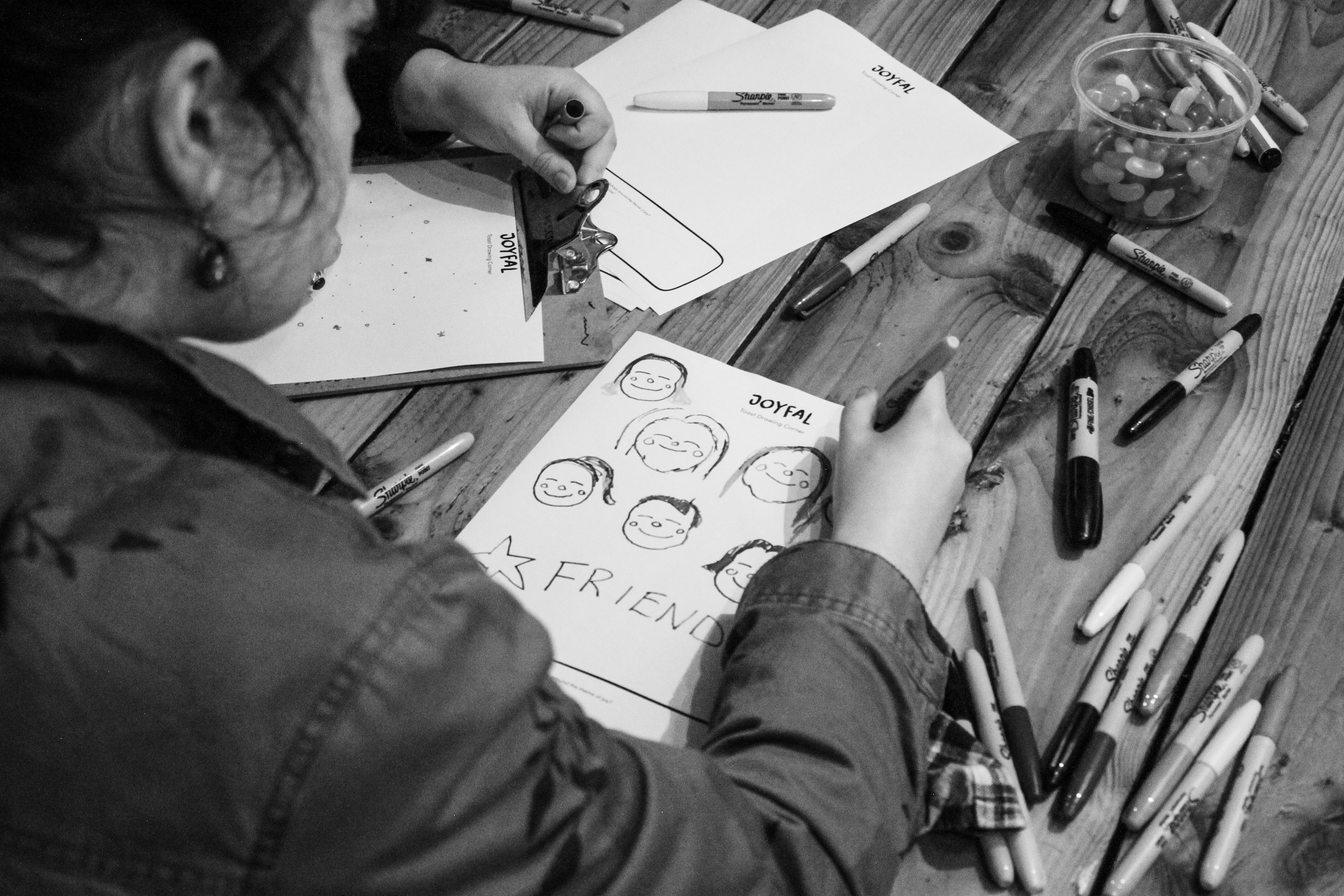 Similarly to our first issue, we gathered all of the wonderful responses and created another publication, showcasing the drawings and responses we received. Following our brand values, we repeated the idea of an interactive front cover, this time encouraging the reader to create their own 'Joyfal' illustration.
Event 03 -
King Charles Primary School
Golden Time: Friendship Bracelets & Postcards
Since the start of term until Easter, we have spent our Friday afternoons at King Charles C of E Primary School running Joyfal workshops for each year group, based around the theme of friendship. 
We taught pupils how to make friendship bracelets for each other and designed a new range of postcards for the children to colour in and give to their friends and family. The children especially loved the Joyfal stamps we made to stick on the backs of their cards!
It was so much fun getting to know everyone and the enthusiasm for our activities was incredible – thank you so much for having us! ​​​​​​​
Postcards printed black & white to encourage the children to decorate and colour in. 
Below shows our limited edition Joyfal 'stamps', which 
teaches the pupils how to 
write and post letters in a fun, 
interactive way.
14th February - 20th March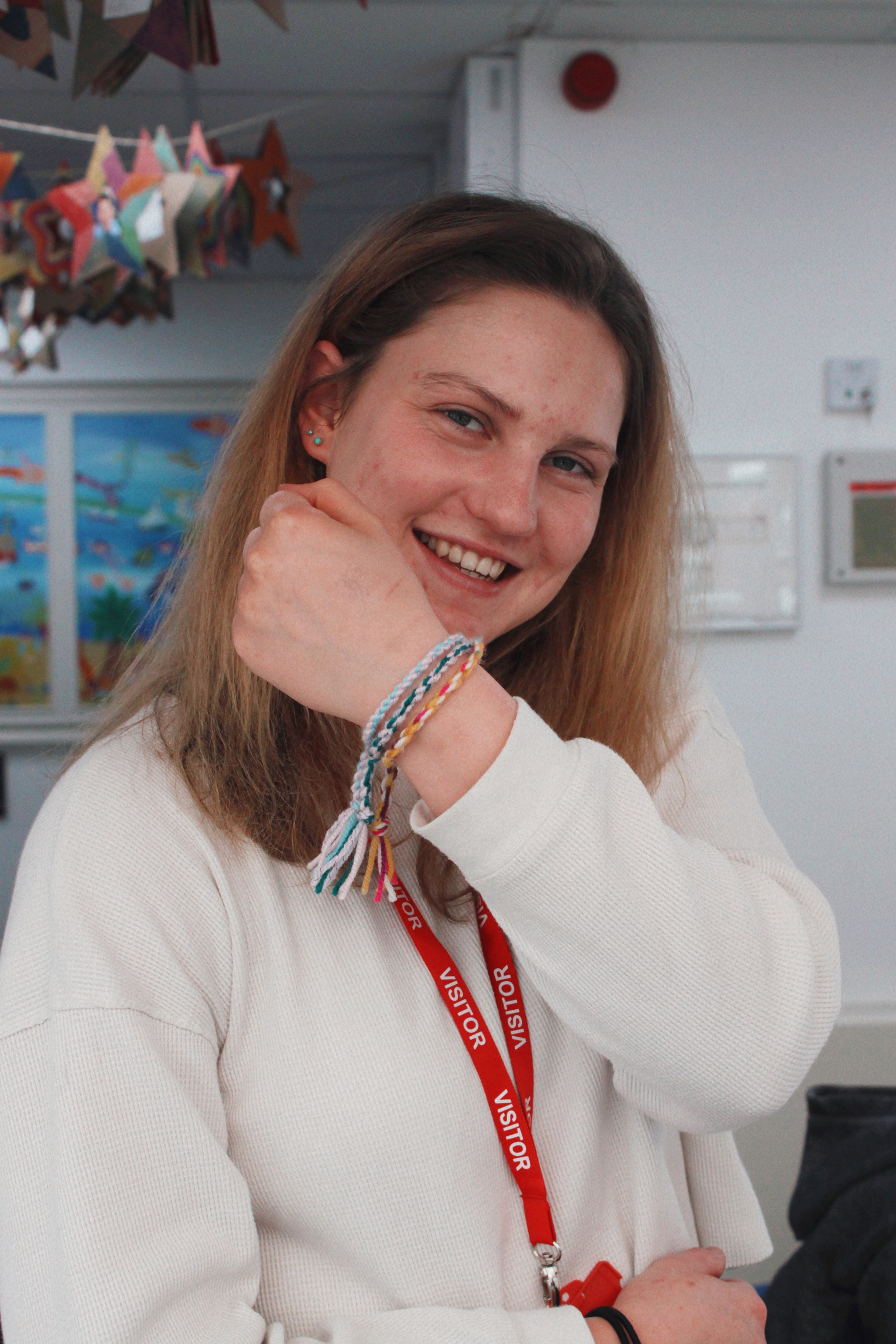 The Joyfal Team! (above) Claudia Aggett (left) Mollie Baker (right) Emma Baker at one of our workshops, in action, 
wearing our friendship bracelets with pride!
The postcard station where the pupils selected their favourite postcard(s), colouring them in and placing one of our limited edition Joyfal 'stamps' on the back, delivering joy to a family member or best friend.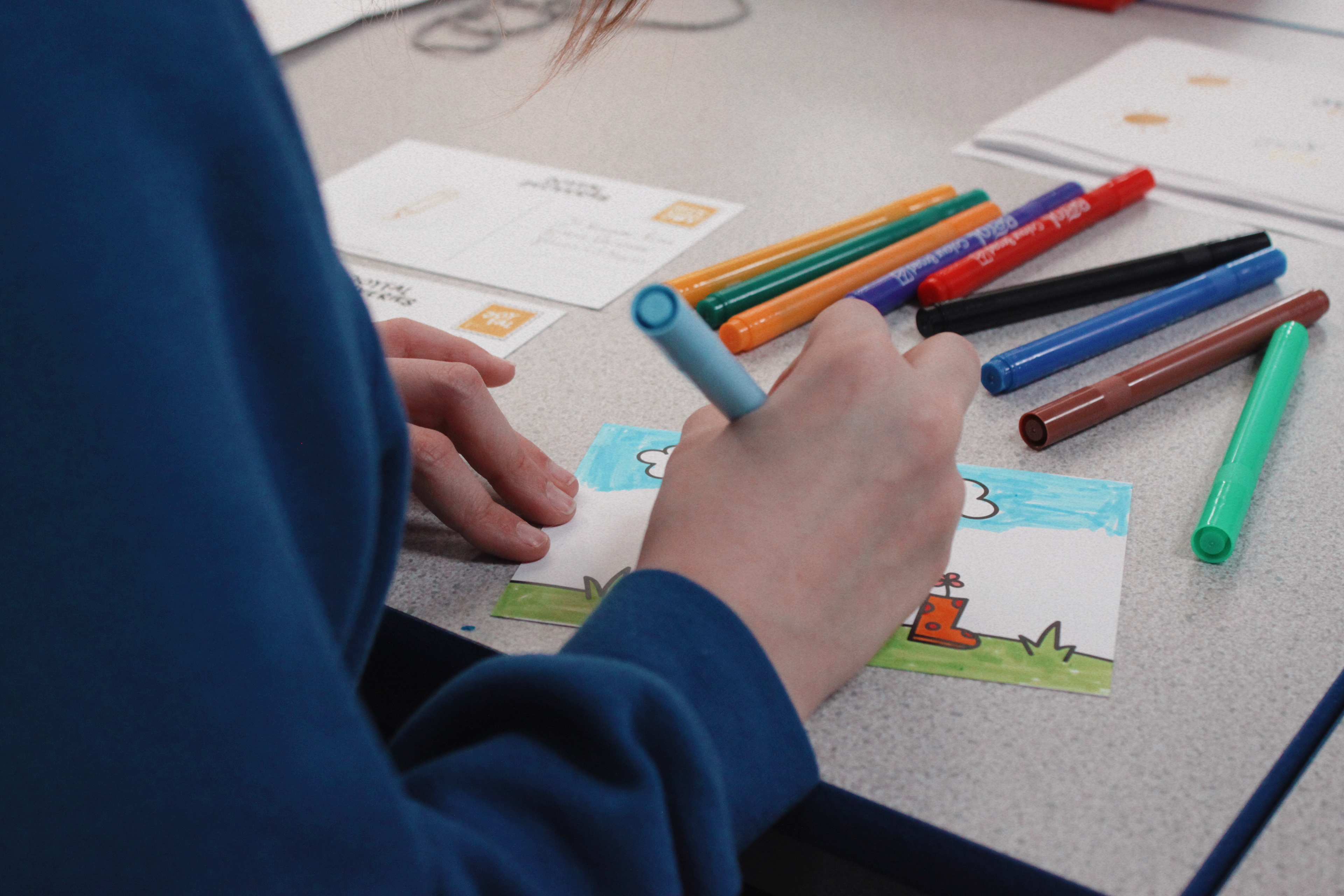 The friendship bracelet creating station where the pupils were given the chance to select their favourite colours, thread and in pairs, create as many friendship bracelets as they wanted. In addition to spreading joy, this activity taught them the skills of working together as a team and informed the children of the importance of small acts of kindness.
Images capturing us, the Joyfal team, getting involved with the fun activities!
Following the workshops, we created a publication (coming soon!) to give to the school as a memento and celebration of our work.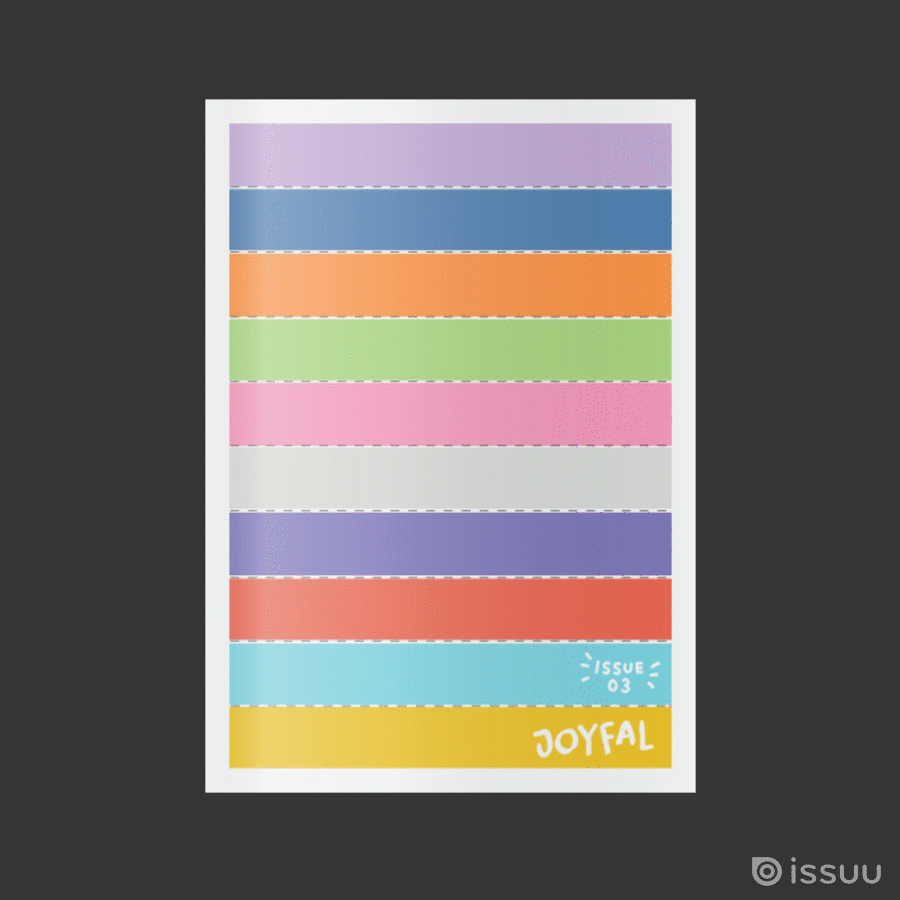 This collaboration was hugely successful, proven by the positive feedback we received from both pupils and staff. We plan to return to King Charles Primary School later in the year to deliver more workshops or present an assembly, discussing our values, work and how we can inspire the younger generations.
Event 04 -
Penryn Memory Cafe
​​​​​​​Hands, Crafts & Joy
We organised and delivered two workshops (unfortunately, only one could go ahead due to COVID19) with Penryn Memory Café; a welcoming and safe space for people with dementia. Each activity was designed with the needs of our audience in mind – we wanted to keep their hands busy, their minds stimulated and (most importantly!) to make them smile!
We are pleased to report that both our paper-craft and flowerpot painting workshops were loved by all – even Peter who is rarely willing to get involved with activities! The workshops were followed by tea, cake and bingo, making each visit a particularly wholesome experience!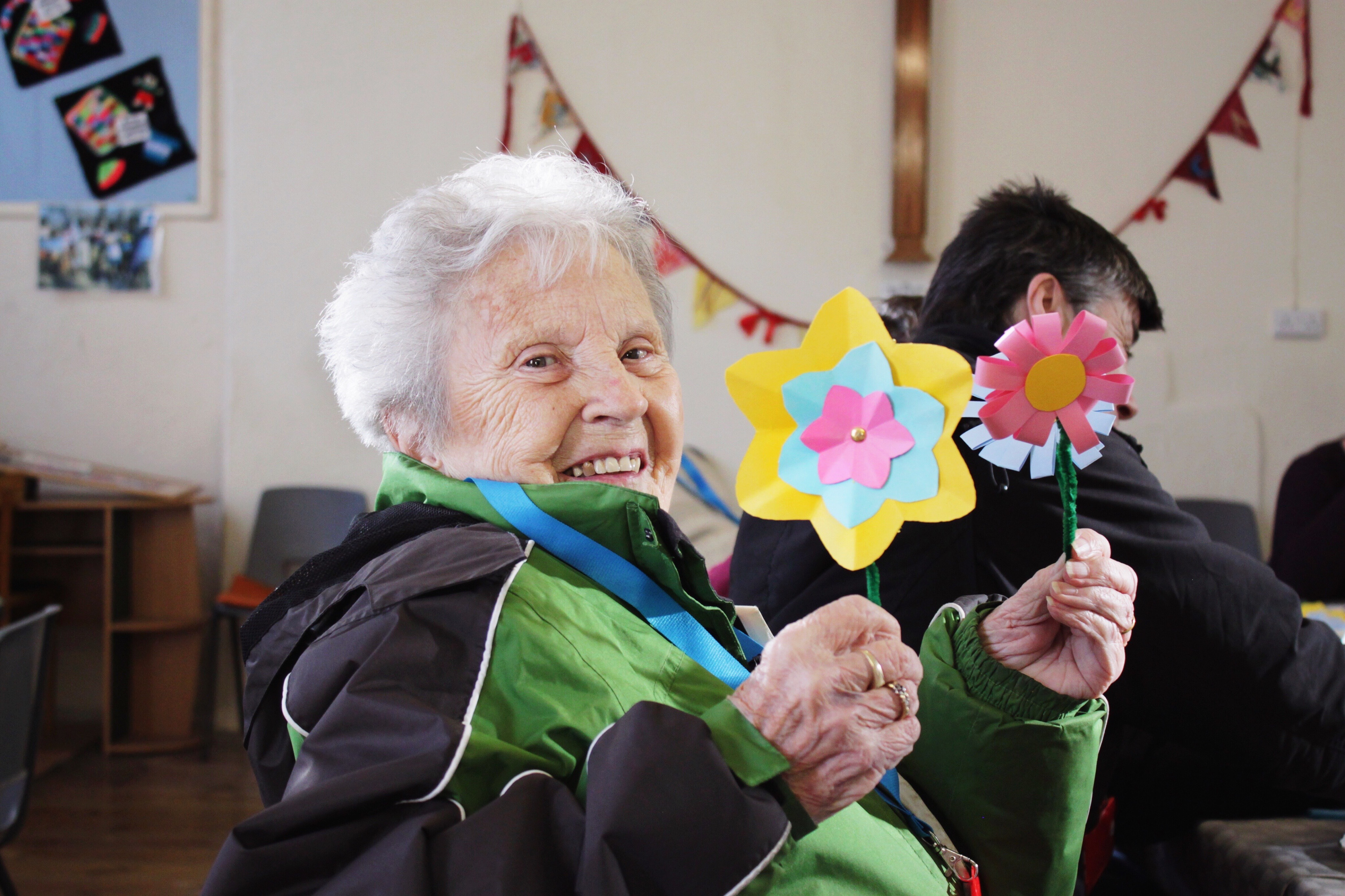 Additionally, sharing what we'd been up to on social media prompted a positive reaction from our followers, with people keen to know how they themselves could get involved with this lovely local group. It was great to be able to give them more information and know that we were inspiring others to join us on our mission! 
Note: Due to COVID-19, the printing of our fourth issue has been put on hold. For the time being we have provided a digital mockup for you to browse through.
Event 05

 
-
Benow Festival at Falmouth Library
Celebrating International Women's Day​​​​​​​
In March, Falmouth Library invited us to host a workshop at the Benow Festival; a multiday event in celebration of International Women's Day. We happily accepted the invitation and designed a range of postcards for people to send to the wonderful women in their lives. The activity attracted people of all ages and it was lovely to hear about so many inspiring women. It was such an uplifting event – proof that we really do rise by lifting others!
Postcards are all designed around the theme of equality and printed black & white to encourage individuals to colour the designs in.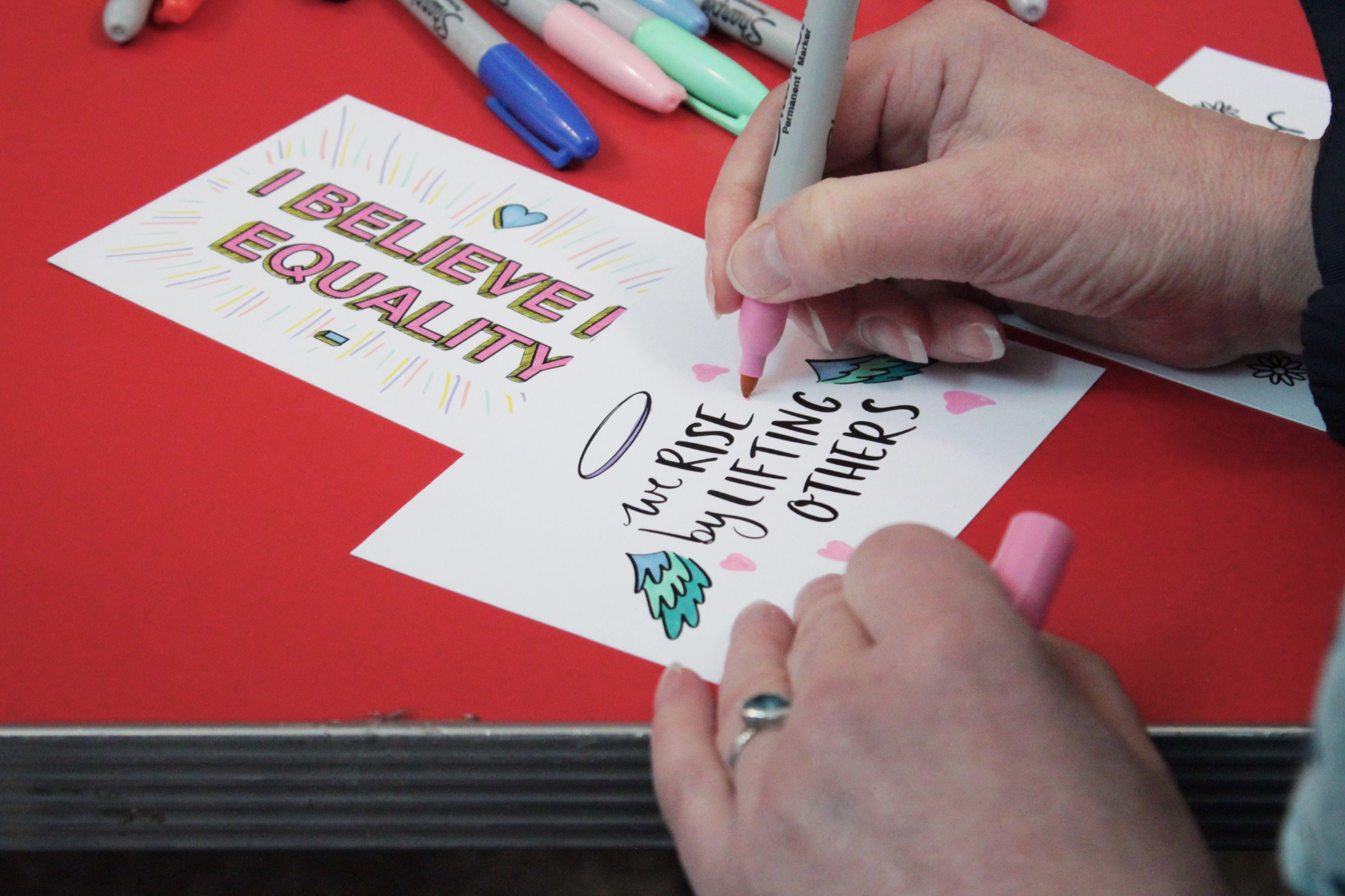 Above shows one of our activity sheets which encouraged visitors to draw or write their thoughts in response to two questions; "Which women inspire you?" and "What are you grateful for?".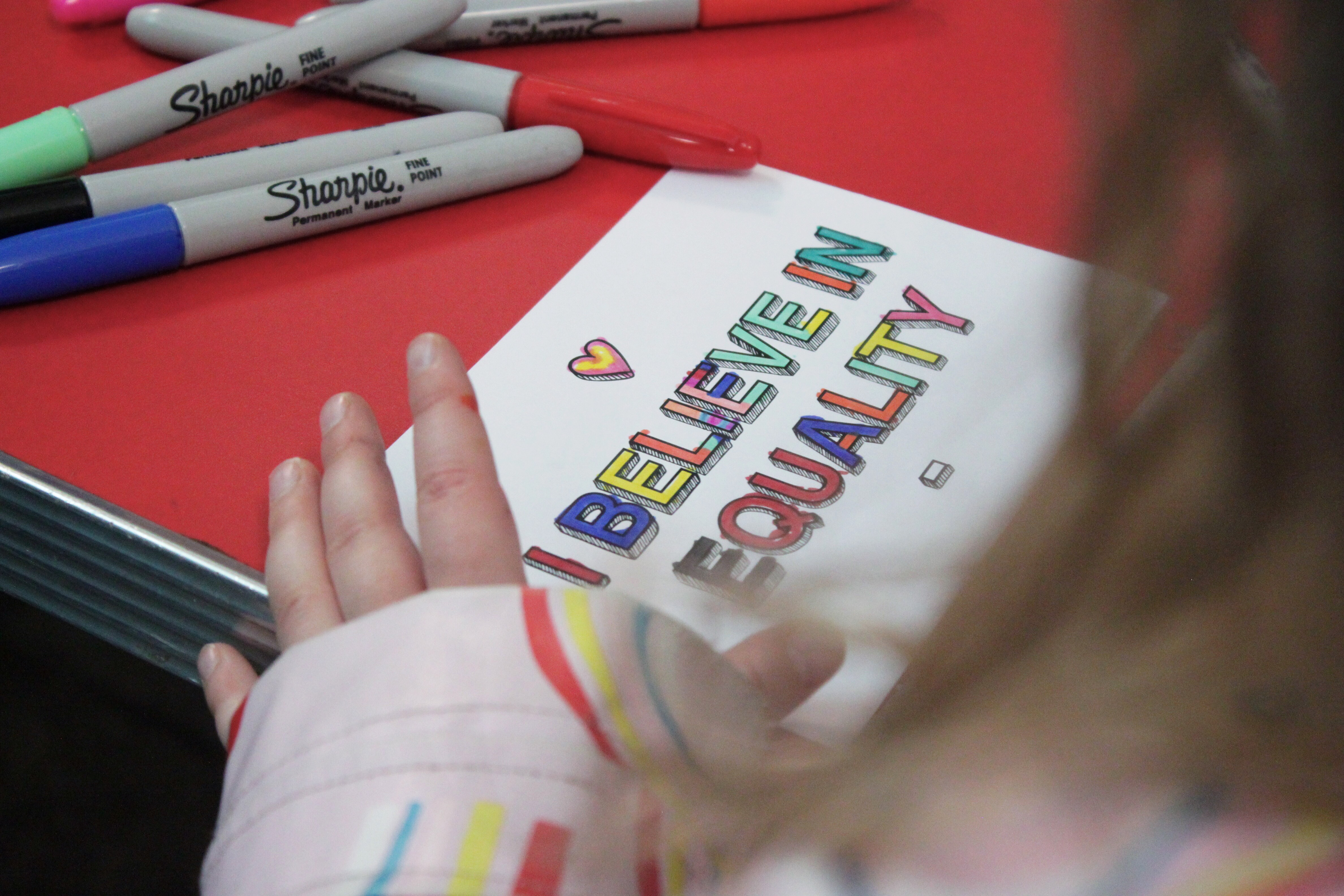 Following the workshop, we created a publication to document the event and to give the library as a memento of our work. The publication showcases how people personalised their postcards, accompanied by a selection of photos taken on the day. As with all our issues, the cover is interactive encouraging further engagement from the audience.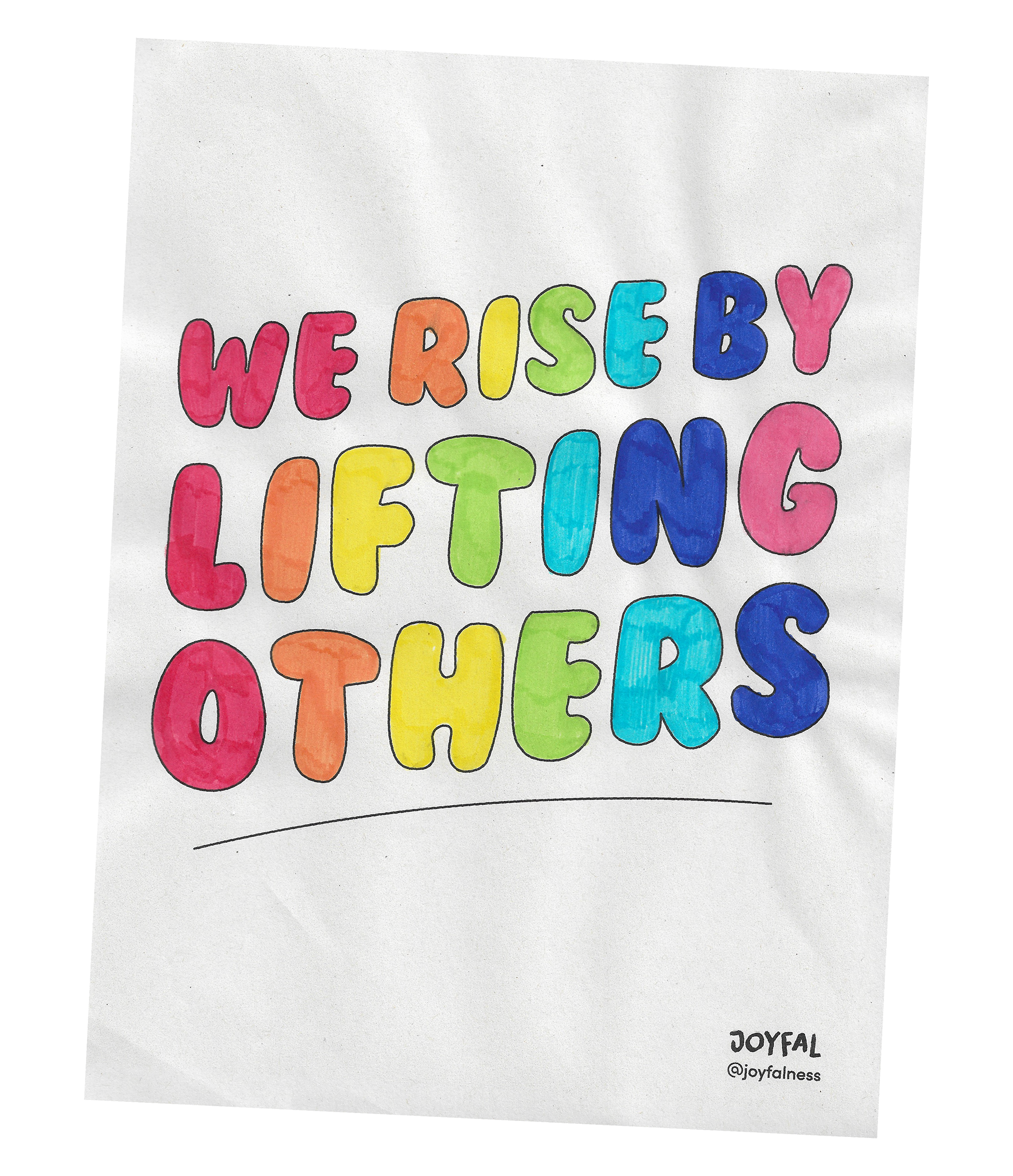 Keen to spread our message even further, following the event we went back to Falmouth Library with a range of Joyfal bookmarks, designed to encourage individuals to leave a message to make the next reader smile. We hid these in various books – hopefully they will brighten someone's day!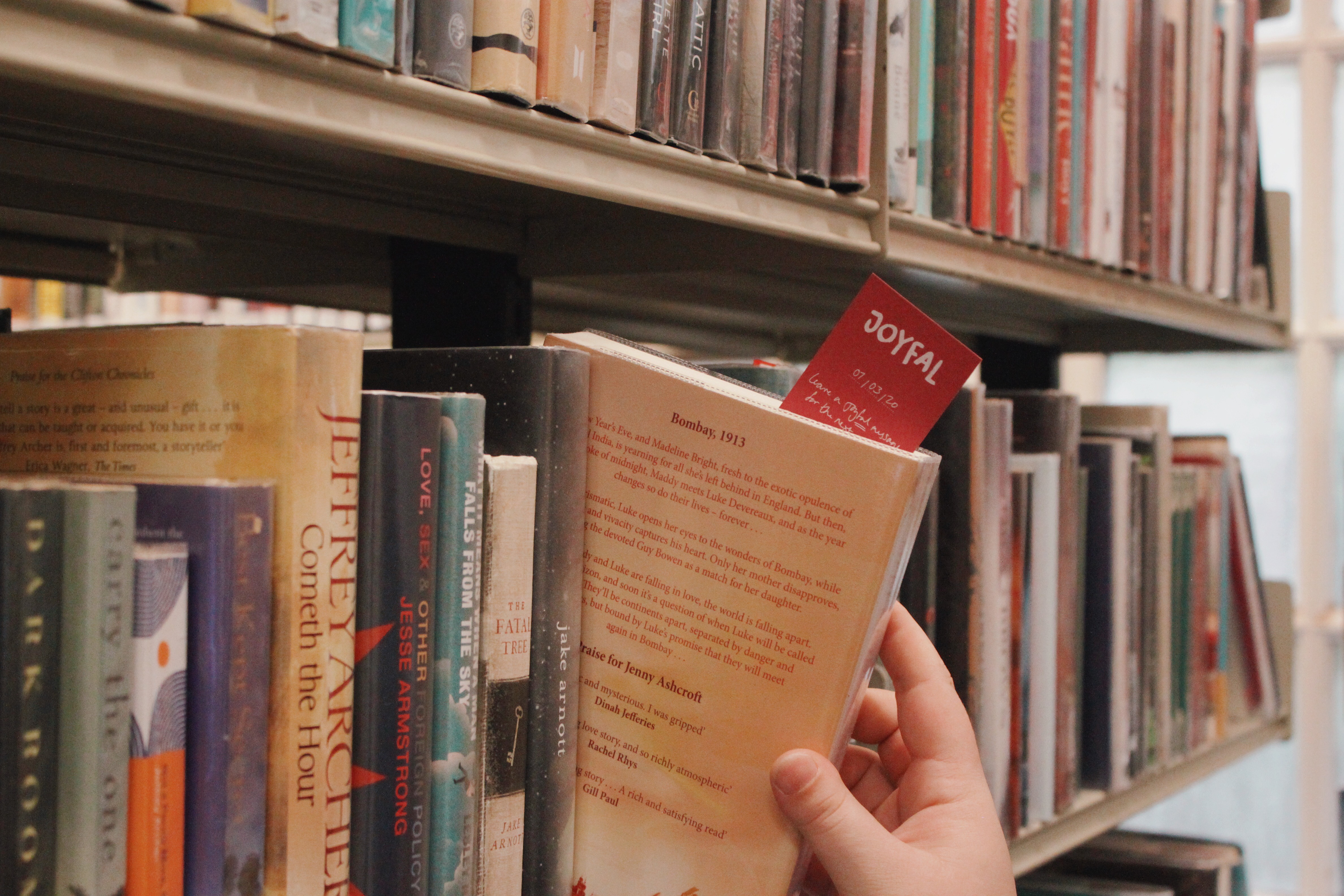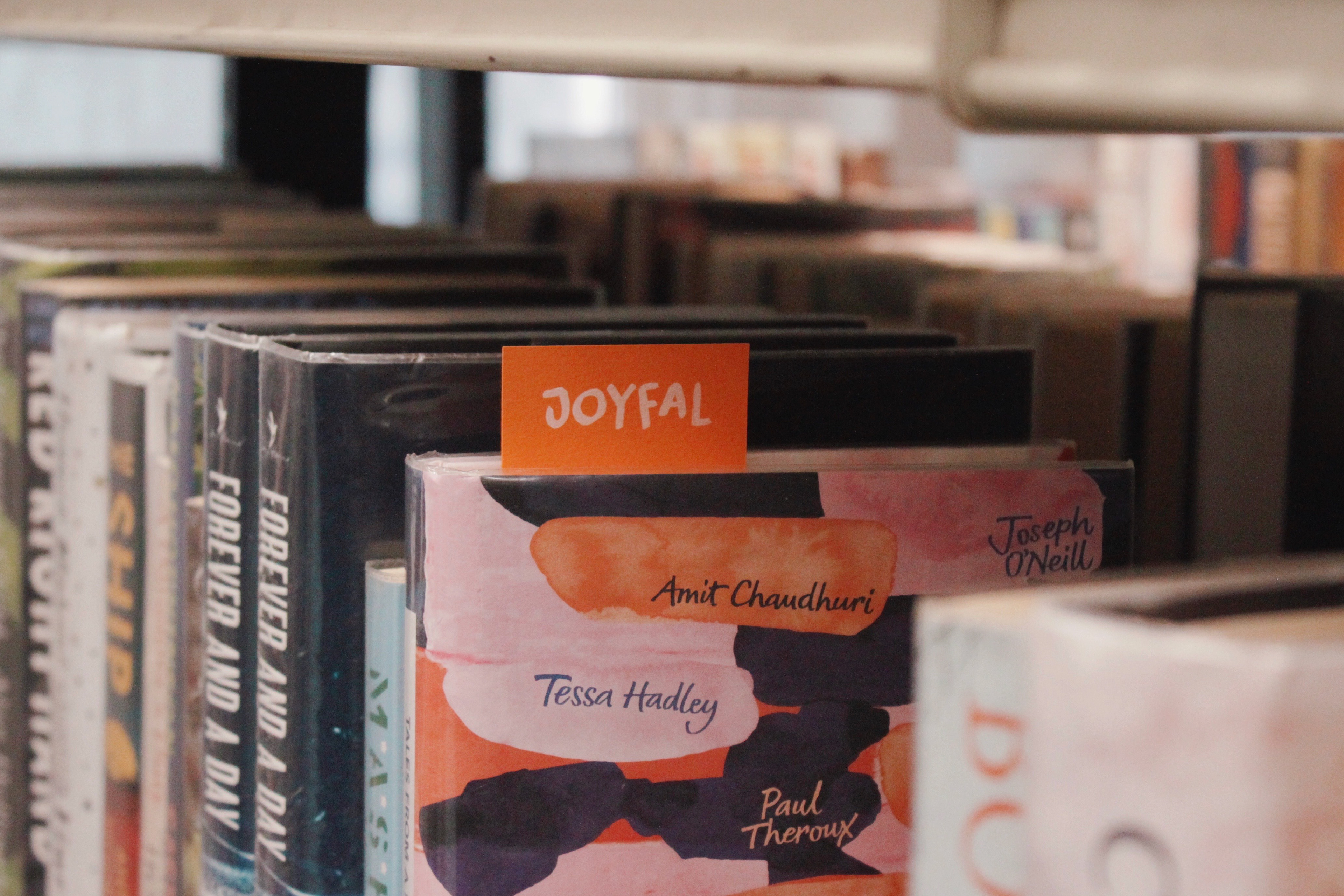 Throwing kindness around like confetti​​​​​​​...
Having seen what we were up to on social media, Design Bridge got in touch to say that they loved the project and ask if they could support us. We were flattered by their interest and created our Joyfal Journals in response to their request to get involved. The publications are designed to be filled with positive messages, uplifting quotes, cheerful artwork, great (or even mediocre) jokes, reasons to be grateful, and anything else that prompts a smile. A bit like a guestbook, but for positive reviews only, because focussing on the good things can only be a good thing! We sent copies to design studios all over the country, along with an introductory booklet and a bunch of other goodies. 
We left the remaining Joyfal Journals lying around Falmouth for anyone to find, read and contribute to, with the hope that each publication inspires its own chain of positivity! 
Alongside the Journal, we created a small Joyfal booklet which explains who we are as a brand, in addition to showcasing our values, informing who we are working/have worked with and how you can get involved!
Within our Joyfal Journal packs, sent out to design studios across the country, we designed a pack of Sprinkles of Joy, which encourage individuals to spread some joy around their workplace by simply placing the little cards on each other's desks, prompting small actions of kindness throughout the day. 
The above images capture the packaging of our Joyfal Journals, ready to deliver joy to locations throughout Falmouth and beyond!
​​​​​​​
Community & Industry Feedback
Huddle, a local cafe in Falmouth, is a space to meet, to study, to work  and over the course of the year, we have utilised their space for many of our Joyfal meetings. Huddle host a variety of events and creative workshops and as a result, we decided to gift our Joyfal Journal to them. Above shows the feedback received from Huddle via Instagram, promoting Joyfal and our message!