45RPM -
Riding Powers Manchester
Brand a bike hire scheme in a city of your choosing, this can be one that already exists or a new scheme. 
Manchester has always been on the move. Once one of the true engine rooms of the Industrial Revolution, it is a city brimming with character, history and a whole lot of pride.
Manchester has long been recognised for its rich musical heritage. Having birthed the likes of The Smiths, Oasis and New Order, the city is known for being a hub for all genres of music, with these iconic names in British pop culture not only putting Manchester on the map, but also paving the way for future generations. New emerging artists prove that Manchester's music scene continues to thrive, rightfully earning its status as the music capital of the UK.
In June 2019, The Institute for Public Policy Research released a report labelling Manchester's pollution levels as "lethal and illegal". With this in mind, how can we combine the city's love of music with a more sustainable mode of transport to tackle Manchester's air quality crisis?
Branding & Identity, Copywriting & UX Design 
Introducing
45RPM
, Manchester's revolutionary bike hire scheme in partnership with Spotify – celebrating the city's rich music culture – past, present and the future. With its name deriving from the most common vinyl single, the 45 (and the records' revolutions per minute) this dock-based hire scheme encourages an innovative and safe inner-city cycling experience with its fun, pedal-powered musical bikes. 
So how does it work?
At the turn of the bike wheel, music will be played aloud, the song's tempo determined by the cyclist's speed and revolutions of the pedals. Simply, the faster the pedalling, the faster the song. This ensures the recommended inner-city cycling speed is always maintained, providing a safe environment for all.
Inspired by the visual language of 45RPM record sleeves, combined with the iconic visual language of Manchester's musical heritage, this is a brand identity which feels both familiar and fresh.
The unique colour scheme is universally appealing, distinct and eye-catching. A graphic language of patterning is derived from tyre treads and nods to the iconic Hacienda branding, whilst also connoting a sense of direction and movement. The stickers provide the brand with a flexible visual language which can be spread across multiple touchpoints to maintain consistency. They add to the urban look and feel, particularly appealing to a younger audience due to its relevant trend style. The typographic treatment of 45RPM is loud and bold, in line with the brand's straight-talking tone.
Just like the people of Manchester, 45RPM is straight talking. No sugar-coating, no flowering, just great northern slang. Our tone of voice is always informal, personable, but quietly confident. We are not overly serious, only when we need to be! Our bold visuals coincide with our language, to grab the attention and encourage involvement of the widest of audiences, old or young, big or small.
Through the use of clever word play, we like to keep people on their toes. 45RPM uses copy to relate back to the world of bikes and the music scene of Manchester.
Let's get pedalling! The bike itself needs to be both highly visible and instantly recognisable as coming from 45RPM, so features bright orange livery and purple detailing – plus clear branding.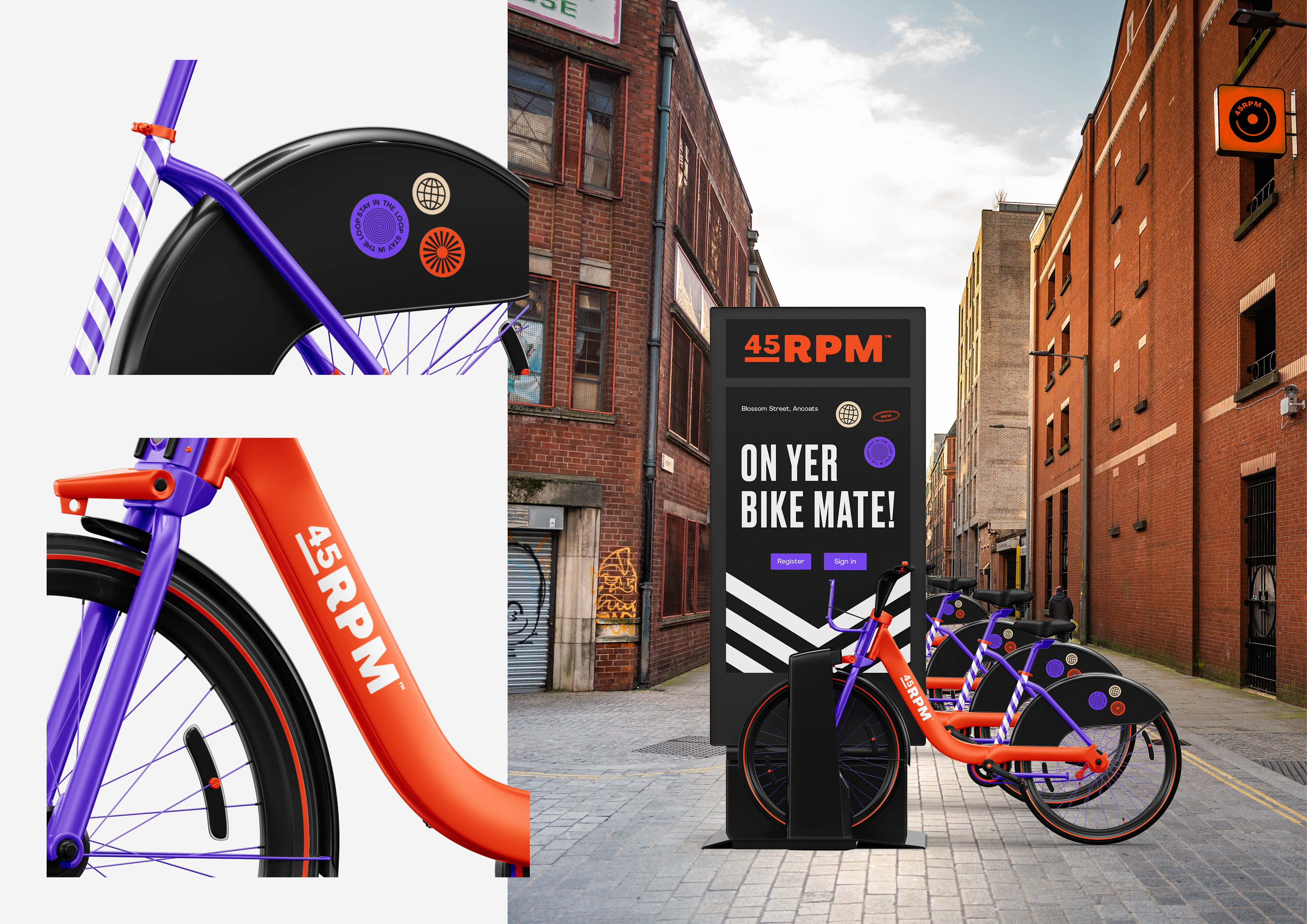 The app is the most crucial aspect of the users interaction with 45RPM, as such it needs to be clear and foolproof for first timers, and enjoyable for regular users.
Upon opening the app you are greeted by a landing page which invites you to register or alternatively, log-in for returning users. You can then begin by exploring the city, searching for nearby docking stations where you can pick up a 45RPM bike.
The app contains additional features beyond typical bike hire apps, such as the Artist Feed, the Community (acting as a social networking platform), Rewards and the Hidden Tracks — a wayfinding experience where you are able to uncover the secrets behind some of Manchester's most notable music destinations.
A distinct and visually appealing campaign is a crucial part of ensuring a good number of sign-ups. Utilising fly-poster sites across the city is a low-fi approach more regularly used in promotion of music releases, which is fitting for 45RPM, and its intended audience.
Complementing this is a digital campaign aimed at tech savvy 16-30yr olds who will hear about the scheme via Instagram or Spotify ads.
Using their phone's GPS system, users situated in the Manchester region will be prompted to download the app and get pedalling, another method of attracting a wide an audience as possible.
Wayfinding is essential to ensure bikes are located and dropped off correctly – these totems will be unmissable with their distinctive patterning and visual brand language. Iconic locations and popular destinations will be clearly sign-posted ensuring users set off in the right direction!

Tracks of the city
(above)
Inspired by the British Heritage blue plaques seen nationwide, 45RPM will be placing brand 'discs' throughout the city. These discs will inform riders of the secrets behind some of Manchester's most notable music destinations.

Stay in your lane
(below)
To maintain inner-city cycling safety and following 45RPM's brand language, the city of Manchester will see bold, eye-catching bike lanes being installed. These unmissable lanes utilise the brands' pattern collection to channel direction and a flow of traffic.